Emsculpt® in Smithtown, NY
Emsculpt® is an FDA-approved body sculpting procedure for men and women. Most non-surgical body contouring treatments available only target fat loss. Conversely, Emsculpt® focuses on increasing muscle mass while simultaneously helping with fat loss.
This muscle-building process is non-invasive and offers visible results starting after just one treatment. In fact, studies have shown that Emsculpt® can increase muscle density by 16 percent and fat reduction by 19 percent. Emsculpt® is the fast, easy solution for a more defined figure.
Am I a Candidate for Emsculpt®?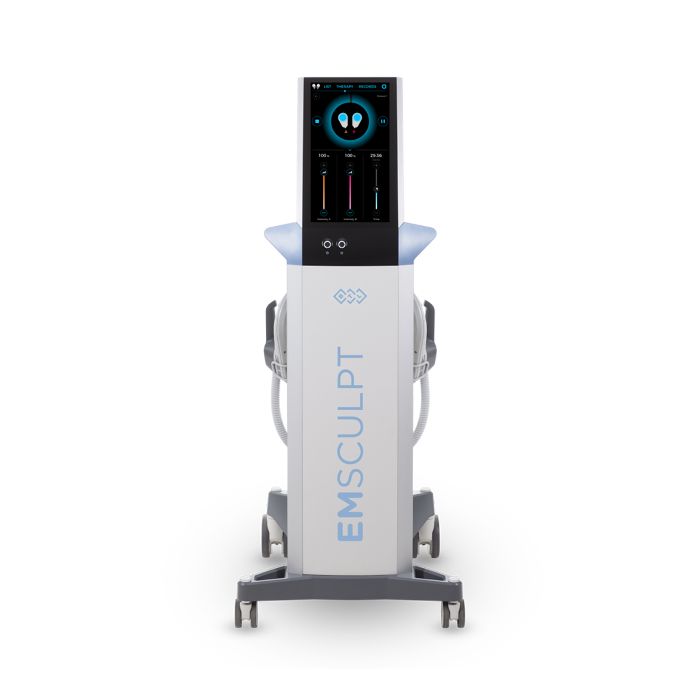 Am I a Candidate for Emsculpt®?
Just about anyone can benefit from Emsculpt®. In particular, this treatment has been shown to be effective for:
Individuals who enjoy a healthy lifestyle and want a boost in their physique
People suffering from diastasis recti (the separation between the left and right abdominal muscles often stretched by pregnancy)
People who want to build muscle to avoid injuries
People who are recovering from certain injuries
People who aren't ready for invasive plastic surgery procedures, such as a butt lift
People who want a metabolism boost
People who have a busy schedule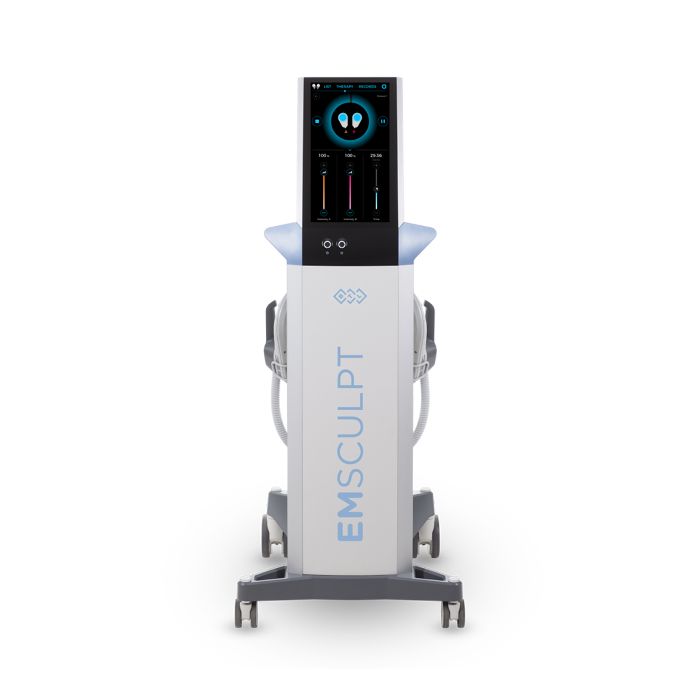 Who Is Not a Candidate for Emsculpt®?
Emsculpt® is not recommended for pregnant women, people with implanted metal devices, and women with implanted metal IUDs. Pregnant women can book an Emsculpt® treatment when they are no longer pregnant.
Book a consultation to better understand if Emsculpt® is right for you.
How Is Emsculpt® Performed?
Emsculpt® is a non-invasive treatment that requires no preparation time, making it perfect for people with busy schedules. The Emsculpt® machine uses high-intensity focused electromagnetic (HIFEM) waves to induce muscle contractions. These contractions have the same effects as 20,000 repetitions in 30 minutes. As the muscles contract, a process is triggered that builds muscle and breaks down fat.
The treatment is only 30 minutes and is painless. You may experience a prickling sensation during the session, and afterward, it feels like you had an intense workout.
Patients need to book a minimum of four sessions scheduled at least two days apart. Possible areas of treatment include the abdomen, arms, glutes, thighs, and calves.
While many patients choose to undergo Emsculpt® as a standalone procedure, others benefit from combining their muscle-building treatment with other non-surgical body contouring treatments, such as truSculpt® iD or BodyTite®.
What Is Emsculpt® Recovery Like?
Emsculpt® requires no recovery time. You can schedule an appointment during your lunch break and proceed with your day.
What Results Can I Expect From Emsculpt®?
You will see visible results from an Emsculpt® treatment with just one session. However, you need to go to at least four sessions to see the treatment's full benefits. Many people see their final results approximately two to four weeks after their last session.
Emsculpt® works best if you book follow up sessions every six months.
Interested in Emsculpt® in Smithtown?
Are you ready to take the next step to having a more toned and defined body? Emsculpt® is an easy and affordable treatment option that requires no recovery time. It's painless and offers quick results.
To book your Emsculpt® consultation or learn more about the cost of your Emsculpt® treatment, contact us at 631-352-3556. Our staff will answer any questions you may have, as well as determine if Emsculpt® is the right treatment for your health and physique goals.