Morpheus8™ Treatments in Smithtown, NY
Morpheus8™ from InMode is one of the most popular non-surgical treatments at Pincus Plastic Surgery. This advanced, non-invasive skincare treatment combines deep microneedling with radiofrequency (RF) energy to resurface and rejuvenate your skin.
The Morpheus 8™ microneedles reach depths that other microneedling can't and is FDA-approved to reduce fine lines and wrinkles while improving skin tone, texture, and skin laxity (looseness) on the face and body.
Morpheus 8™ efficiently bridges the gap between fractional laser and surgical procedures. Pincus Plastic Surgery is proud to offer Morpheus8™ for our patients in Smithtown, New York, and those from nearby cities.
Am I a Candidate for Morpheus8™?
By combining radiofrequency waves and microneedling, Morpheus8™ stimulates collagen production for cellular renewal and is safe for virtually anyone.
If you are concerned with the following skin conditions, Morpheus8™ may be the right solution.
Mild to moderate sagging skin on the face, neck, and chest
Fine lines and wrinkles
Early jowling in the lower face
Uneven skin tone or texture
Skin blemishes and active acne
Acne scarring
Sun damage
Stretch marks
Morpheus8™ can improve the overall appearance of your face and neck for a more youthful appearance.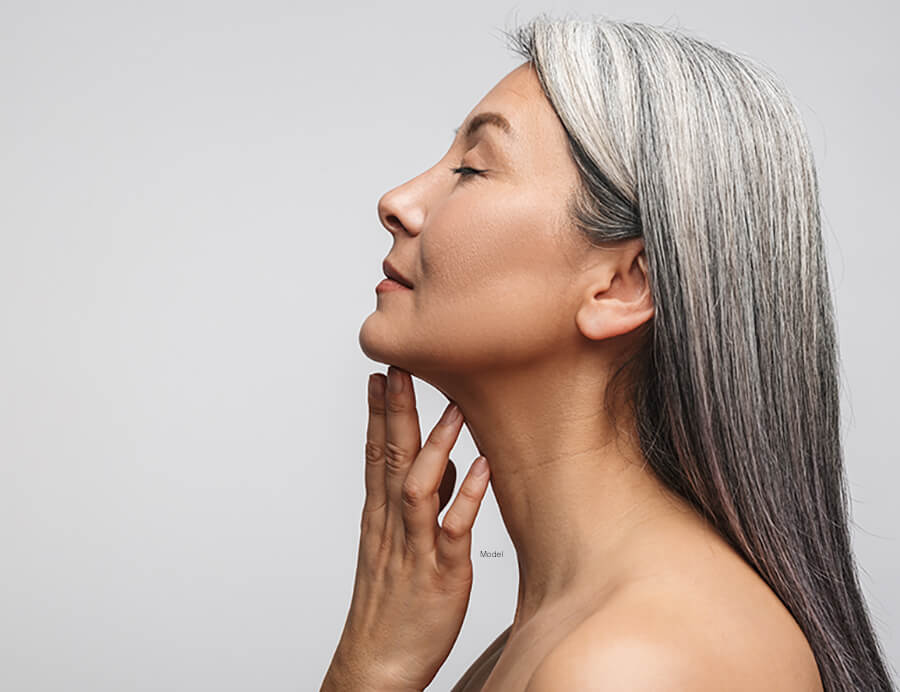 Who Is Not a Candidate for Morpheus8™?
Morpheus8™ is unsuitable for those with severely sagging skin or deep-set wrinkles and those who smoke or have serious health conditions.
A consultation with our Morpheus8™ expert can help determine your personal benefits or if a different treatment is better for you.
Pincus Plastic Surgery also provides surgical procedures for our patients with more advanced age-related skin concerns, such as facelift surgery and eyelid surgery (blepharoplasty).
Call (631) 352-3556 to book your Morpheus8™ consultation.
How Are Morpheus8™ Treatments Performed?
Morpheus8™ penetrates deep within the layers of your skin and is ideal for those with mildly loose skin and jowling. This advanced, non-surgical cosmetic procedure treats a wide range of skin conditions by increasing collagen production to firm skin and improving skin tone and texture.
Our Morpheus8™ provider typically applies a topical numbing cream 30 minutes before your procedure to ensure your comfort during treatment. Some patients who are more sensitive to pain are given Pro-Nox™, which offers pain management by combining oxygen with nitrous oxide.
Immediately before Morpheus8™ treatment begins, your skin is cleansed with an antibacterial solution. The procedure takes about 20 to 30 minutes to complete.
Tiny needles penetrate your skin to the appropriate depth, and RF energy is delivered to the treatment area. This process stimulates abundant collagen production for better results than microneedling alone.
Most clients find the Morpheus8™ treatment to be comfortable, especially when receiving the numbing cream.
Morpheus8™ can be combined with other non-surgical treatments or facial surgical procedures that may be included in your treatment plan.
Morpheus8™ Treatments in Smithtown, NY FAQs
Q. What Is Morpheus8™ Recovery Like?
A. Side effects of Morpheus 8 may include redness and swelling, but these usually subside within 24 to 48 hours. Some mild, temporary bruising may occur. You can use a gentle cleanser to wash your face after 24 hours, but topical treatments should be avoided for at least three days. You may apply makeup on the second day after your treatment. Your provider will explain the possible side effects and give you complete post-procedure care instructions.
Q. What Results Can I Expect From Morpheus8™?
A. Results are usually reported four to six weeks after your first treatment. Two to three sessions a month apart are recommended to achieve your desired results. Some laser treatments are not recommended during the summer, but Morpheus8™ is safe to receive during warmer seasons as it uses radiofrequency waves. You should protect the treated areas from sun exposure for the first week after your procedure.
Interested in Morpheus8™ in Smithtown, New York?
To schedule your Smithtown Morpheus8™ treatment, contact Pincus Plastic Surgery at (631) 352-3556. One of our knowledgeable team members can answer your questions and schedule a consultation.