Male Plastic Surgery
in Smithtown, NY
Am I a Candidate for Male Plastic Surgery?
Men often seek out plastic surgery to look more masculine and fit.
Ideal candidates for male plastic surgery are in good health and are looking for a more defined, masculine look. Candidates should also be at a stable weight, not smoke, and have realistic expectations for their results.
Dr. David Pincus will be happy to help you choose the procedure/combination of procedures that are right for you, so you can achieve the look you desire.
What Are My Male Plastic Surgery Options?
Male plastic surgery can include one or several of the following surgeries. During your consultation, Dr. Pincus will explain which procedures can be combined and which are better performed separately.
Facial Procedures
Eyelid Lift
Men often suffer from drooping eyelids that disrupt their peripheral vision and give them a prematurely aged look.
During an eyelid lift (blepharoplasty), excessive eyelid tissue and/or fat are removed in the upper and/or lower eyelid to restore your sightlines and give your eyes a brighter appearance.
Facelift
Facelift surgery involves smoothing and rejuvenating your middle and lower face while maintaining your natural contour. Because men tend to have different concerns with hairlines, male facelift surgery can vary slightly to ensure the hairline and masculine angles of the face are preserved.
Facial Implants
Facial implants (including chin and jawline implants) improve the masculine contour of your chin and/or jawline, giving you a more defined and masculine look.
Injectables
These non-invasive cosmetic enhancements are designed to smooth out wrinkles and/or add volume to your face. Depending on your specific needs, you can choose to receive BOTOX®Cosmetic, JUVÉDERM®, and Restylane® therapies.
KYBELLA®
KYBELLA®is an injectable treatment that helps remove the excess fat (submental fat) that produces a double chin. These injections help you achieve a slimmer and more defined lower-face appearance.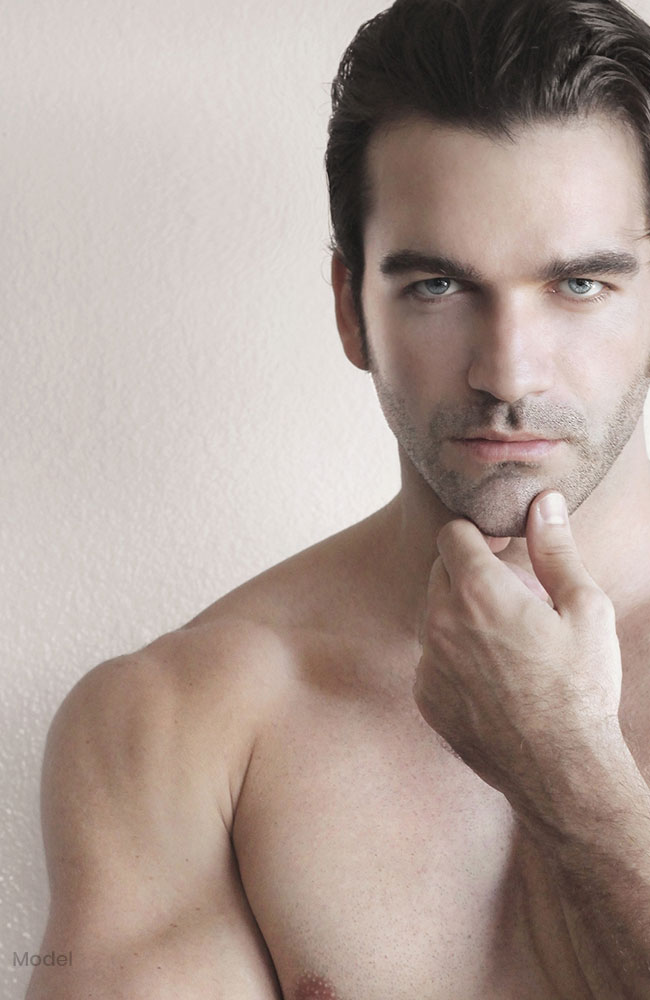 Breast and Body Procedures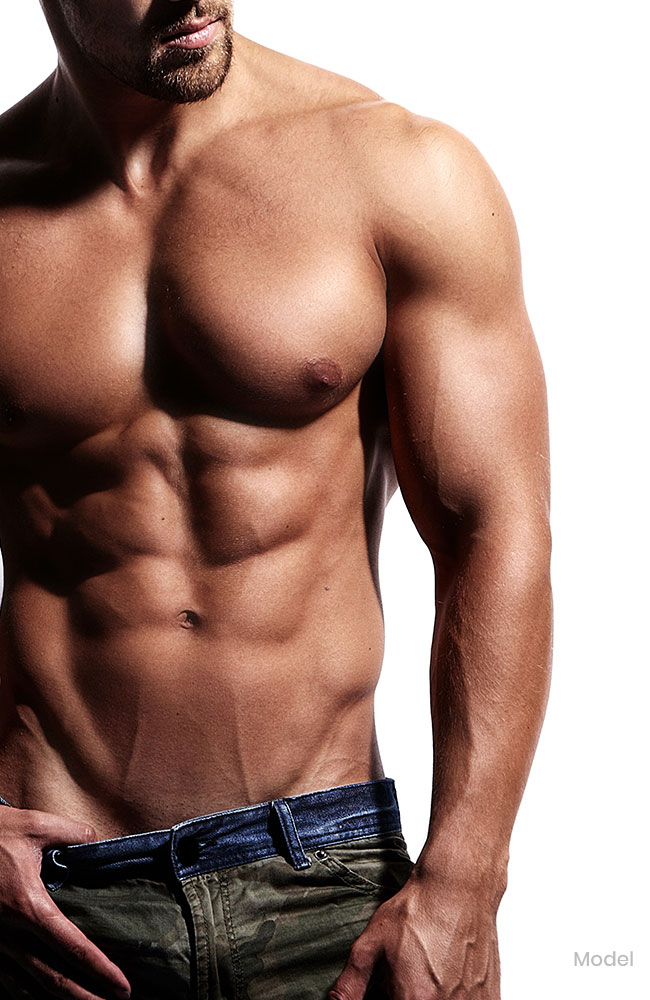 Breast and Body Procedures
Gynecomastia Surgery (Male Breast Reduction)
For those who suffer gynecomastia, which is the presence of excess glandular tissue and chest fat that resembles a female breast, gynecomastia surgery is performed. This is accomplished by surgically excising glandular tissue and/or removing excess fat through liposuction.
Liposuction
Liposuction is a popular choice among men looking to obtain a more defined and contoured abdomen and body. This cosmetic procedure is performed by removing excess fat in the treatment areas.
Lower Body Lift
Perfect for those who have lost a large amount of weight, the lower body lift procedure helps tighten contours by removing unwanted skin left behind in the abdominal area, back, thighs, and flanks. This comprehensive surgery allows you to achieve the firm body you have worked for.
Tummy Tuck
Tummy tuck surgery procedure addresses excess skin and fat in the abdominal area while tightening the muscles to give you a firmer and more defined midsection.
Hair and Skin Procedures
Hair Transplant
Many men struggle with hair loss as they age, which can prove detrimental to their self-esteem and confidence levels. Hair transplant procedures restore hair in thinning or balding areas so men can once again have fuller heads of hair.
Laser Hair Removal
Many men consider laser hair removal to permanently reduce hair growth on the chest, back, arms, or legs.
Skin Resurfacing
Like women, men also struggle with skin conditions like acne, sun damage, and the natural aging process. Laser skin resurfacing addresses these concerns to help produce a smoother, more youthful facial appearance.
Male Plastic Surgery
in Smithtown, NY FAQs
Q. What Is Male Plastic Surgery Recovery Like?
A. The recovery from male plastic surgery will largely depend on the location and combination of procedures being performed. In some cases where non-surgical treatments are chosen, recovery times are very short, and patients can return to their normal activities on the same day. With surgical procedures, the patient will need a few days or weeks to heal. Dr. David Pincus will provide detailed information and instructions for your specific case.
Q. What Results Can I Expect From Male Plastic Surgery?
A. Male plastic surgery must be approached realistically but, depending on the procedure(s) you are going to undergo, you can expect a more sculpted, defined, and masculine look.
Interested in Male Plastic Surgery in Smithtown, NY?
If you are looking for more information on male plastic surgery and the options that are available to you, give Dr. David Pincus a call at (631) 352-3556 or use our online contact form, and we will be happy to answer all your questions today.