Liposuction
in Smithtown, NY
Stubborn fat deposits can be present throughout the entire body regardless of how well you eat or how much you work out. Unfortunately, not all fat pockets are the same and some do not respond to a healthy lifestyle.
Liposuction is a versatile procedure that removes stubborn fat pockets. Also known as lipoplasty, this plastic surgery procedure eliminates fat cells and restores a more slender and attractive physique.
Dr. Pincus offers liposuction for women and men in Smithtown, Suffolk County, and Long Island, New York.
What Does Liposuction Provide?
Slimmer Contours
Our liposuction procedure in Smithtown, NY, is a surgical treatment that eliminates stubborn fat pockets to provide slimmer contours. Liposuction permanently removes unwanted fat cells using suction technology so that you can enjoy long-lasting results.
Defined Curves
Not only will you have a slimmer physique, but you will also develop firmer, more defined curves. These curves can create or enhance an hourglass shape, which allows you to have a wider range of clothing options and may improve your self-image.
Full-Body Results
Unlike other surgical procedures that target a specific body region, liposuction techniques can be applied nearly anywhere on the body. This surgery allows you to tone your midsection, back, chest, legs, and submental area.
What Will My Liposuction Look Like?
Consultation

Your consultation with Dr. David Pincus is essential to a successful liposuction treatment. During this meeting, Dr. Pincus will:

Discuss your goals and expectations
Evaluate your skin condition
Take measurements and photos
Recommend combination procedures, if necessary
Create your surgical plan

Before your liposuction treatment, you should:

Stop smoking for at least two weeks
Avoid alcohol for at least one week
Refrain from blood-thinning medication and herbal supplements (such as aspirin and NSAIDs)
Shower the morning of your surgery but do not apply lotions or moisturizers
Arrange for someone to drive you home

Treatment Areas

Liposuction tones and defines nearly any region of your body, including the:

Abdomen and waist
Hips and thighs
Back and flanks
Buttocks
Knees and ankles
Neck
Arms

Procedure Details

Liposuction is an outpatient procedure, and patients can return home shortly following their surgery. Dr. Pincus uses power-assisted tumescent liposuction (Hi Def liposuction).

During your liposuction procedure:

Small incisions are made within the treatment area
Tumescent fluid is injected into the region to cause the fat cells to swell
A thin, hollow tube (known as a cannula) is inserted into the incisions
The cannula vibrates to break up the fat cells
Fat cells are suctioned out with a vacuuming device
Incisions are closed
Do You Have Other Concerns About Liposuction?

Liposuction Recovery
Liposuction is performed under general anesthesia or can be performed under local anesthesia.
You will develop bruising, swelling, and tenderness after your liposuction treatment that will gradually lessen over the following days and weeks. Any post-operative discomfort can be reduced with prescribed or over-the-counter pain medication.
During your recovery, be sure to get plenty of rest, wear compression garments to reduce swelling, limit physical activity, and schedule a follow-up appointment with Dr. Pincus.
Most patients return to their day-to-day activities—including work—within one week but should refrain from strenuous exercise for two to three weeks.

Liposuction Results
The results of your liposuction will begin to become visible immediately following your treatment but will continue to improve as the bruising and swelling subsides. You will start to realize slimmer, more toned contours over the following weeks and months.
These results are long lasting, but they need to be maintained with a healthy lifestyle.

Liposuction Scars
Liposuction requires small incisions to be made in the treatment areas that are large enough for the cannula to be inserted. These incisions may result in scarring, but they will be placed in easy-to-hide locations, and they will fade with time.
Frequently Asked Questions
Am I the right candidate for liposuction?

Liposuction is chosen by men and women who hope to sculpt their body contours by eliminating stubborn fatty deposits.

Ideal candidates for this procedure are close to their ideal weight and have diet and exercise-resistant fat pockets. Candidates do not smoke, are in good overall health, and have realistic expectations of their results.

Liposuction is not a weight-loss procedure and is not an alternative to a healthy lifestyle.

How much does liposuction cost in New York?

Your liposuction treatment is customized to you depending on your needs and body contours. The cost of your treatment will vary significantly depending on the number of treated areas, the size of those areas, and external factors like anesthesia, facility fees, geographical region, and pre-surgical tests.

According to the American Society of Plastic Surgeons (ASPS), the average cost of surgeon's fees for liposuction is $3,518.

Liposuction is considered to be elective, and most insurance providers will not cover the cost of the procedure. Dr. Pincus offers financing to help you cover the cost of your treatment.

Will liposuction give me a flat midsection?

Excess fat develops in the midsection due to weight gain, pregnancy, and age, and, unfortunately, the midsection is one of the most challenging areas to tone for both men and women. Liposuction creates a slimmer waistline, a flatter abdomen, reduced love handles, and the elimination of excess fat on the lower and upper back.

Why should I consider liposuction of my lower body?

Excess fat collects in the hips and thighs, causing unsightly "saddlebags. Liposuction sculpts the hips and thighs for defined and firmer curves. This procedure can also restore a tighter and rounder buttocks and more toned legs.

How can liposuction address my neck?

Excess fat develops beneath the jaw to create a double chin. This small area has a significant impact on your facial contour. By using delicate liposuction techniques, this procedure can restore the definition to the jawline.

Is BodyTite® the same as liposuction?

Will the fat return after liposuction?

Liposuction permanently removes fat cells; therefore, the fat that is removed with liposuction will not return. Even though the number of fat cells will not regenerate, you can still gain weight if a healthy lifestyle is not maintained.

Patients should follow a healthy diet and exercise program to extend the quality of their results.

What can I do with my unwanted fat?

Many patients who undergo liposuction decide to take the fat that was removed during the procedure and transfer it to another area that would benefit from additional volume.
Fat is commonly transferred to the butt—known as the Brazilian Butt Lift—or transferred to the face or the breasts.
Combining liposuction with fat transfer allows you to put your unwanted fat to good use.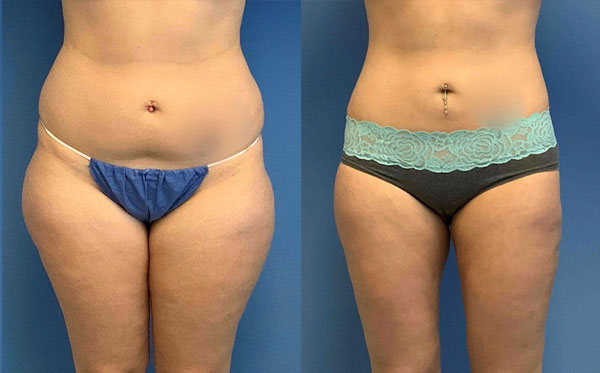 PHOTO GALLERY
See the tranformations. View the photo gallery.
GO TO GALLERY