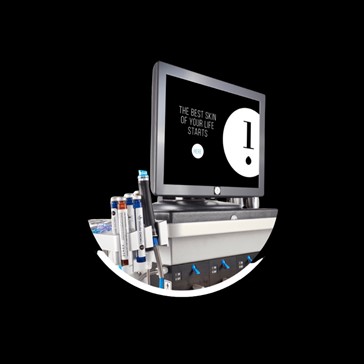 HydraFacial uses a unique, patented Vortex-Fusion delivery system to exfoliate, extract and hydrate skin, and the spiral design delivers painless extractions. Only HydraFacial uses patented technology to cleanse, extract, and hydrate. HydraFacial super serums are made with nourishing ingredients that create an instantly gratifying glow in just 3 steps. All skincare needs can be achieved with HydraFacial.
CLEANSE + PEEL
Uncover a new layer of skin with gentle exfoliation and relaxing resurfacing.
EXTRACT + HYDRATE
Remove debris from pores with painless suction. Nourish with intense moisturizers that quench skin.
FUSE + PROTECT
Saturate the skin's surface with antioxidants and peptides to maximize your glow.
FACIALS
Anti-aging Facial
A treatment that you can customize to include extractions, steam, and massage. This facial targets your specific skin needs. This treatment can also be paired with a chemical peel, or dermaplane, for the best anti-aging treatment.
Dermaplane
This treatment is a mechanical exfoliation of your face. This treatment removes fine facial hair and dead skin on the face, with immediate results. Your skin is smoother, brighter, more radiant. Performed regularly, dermaplaning helps to brighten skin, diminish the appearance of dark spots, and improve the performance of your skincare products. Dermaplaning reduces acne breakouts by removing dead skin cells and facial hair, areas where oil can get trapped. Dermaplaning also promotes collagen production and decreases fine lines and wrinkles. Side effects may include slight redness in your face right after treatment. Treatment recommendation is every 4 weeks.
CHEMICALS
Deep Peel
An aggressive peel that provides dermal and epidermal stimulation. It is aimed to reduce age spots, uneven pigmentation, melasma, and acne scars.
3 Step Peel
An aggressive peel that improves the skin's ability to repair and renew softer skin. It provides powerful antioxidants that help repair skin damage from pollutants as well as boosting collagen for visible firming and wrinkle reduction.
Gentle Peel
A mild peel that stimulates epidermal turnover, accelerates exfoliation, evens skin tone and minimizes fine lines while leaving the skin calm and without irritation.
Peel Preparation
ONE WEEK BEFORE THE PEEL:
Discontinue any topical prescriptions or any products containing Retinol or Vitamin A. Avoid waxing, electrolysis, hair removal creams, and laser hair removal treatments. Avoid sun exposure (and tanning beds)
DAY OF THE PEEL:
Do not use any alpha hydroxy acid (AHA), beta hydroxy acid (BHA) and benzoyl peroxide. Stop any exfoliating products that might be drying or irritating. MEN – DO NOT SHAVE
IMMEDIATELY POST PEEL:
After receiving your peel do not use any skincare products that have not been approved by your aesthetician. You may start your post treatment kit the next morning.
CHEMICAL PEEL AFTERCARE:
Avoid direct sun and extremes of heat or cold
Discontinue the use of any AHA/BHA products
Use hydrating reparative products
Apply Sunscreen diligently
No scratching, peeling, or picking
Avoid treatment if the following conditions exist:
Accutane: less than 1 year off
Retin-A: Discontinue for 7-10 days prior to treatment
Sunburned or compromised skin
Active cold sores or lesions
Active facial rash
Immediately post lift or facial surgery needs doctor approval
Rosacea: will need to be evaluated
Facial waxing: requires a 72 hour waiting period
COMMON SIDE EFFECTS:
Redness:  Redness is expected.  After a medium or deep chemical peel, redness might last for several months.
Infection: A chemical peel can cause a flare-up of the herpes virus  Even more rare, you can get a bacterial or fungal infection. These conditions can be treated if they occur.