Men's Rejuvenation Guide: How Men Benefit From Body Contouring Surgery
3 Minute Read: 
Just like women, men want to feel confident and comfortable in their bodies. Unfortunately, many physical goals are harder to achieve as you age. In recent years, more men have started to turn to plastic surgery to look and feel younger and fitter. According to the American Society of Plastic Surgeons, men account for eight percent of all procedures that were performed in 2018.
If you want to make significant improvements to your body, you may be interested in learning more about some of the procedures under the "male rejuvenation" category.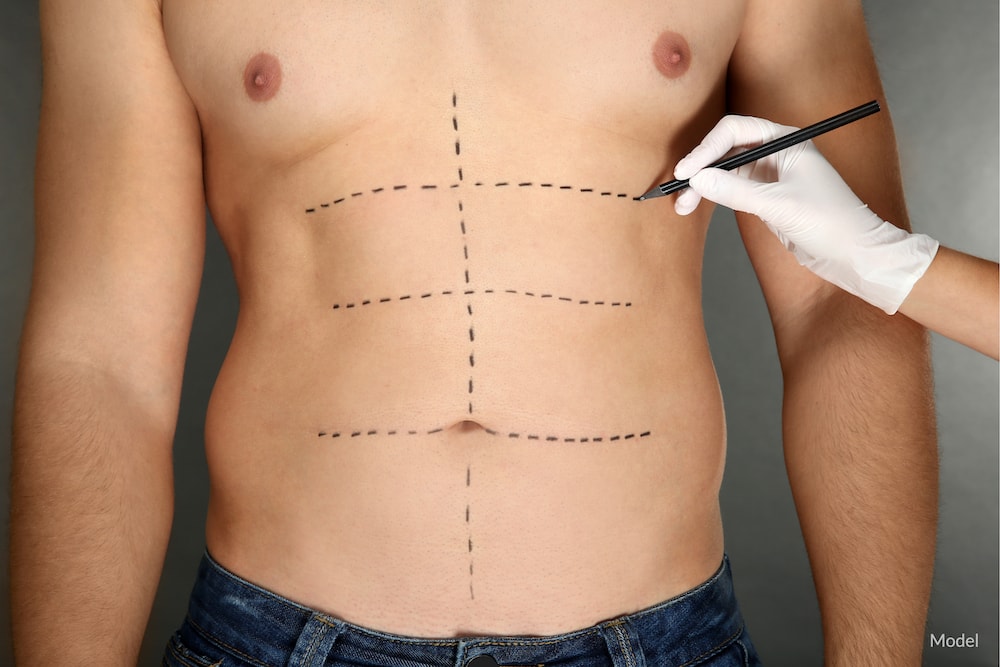 Some of the most common procedures for men looking to transform their bodies include:
Liposuction

Tummy tuck surgery

Fat transfer

truSculpt® iD

Gynecomastia surgery
What Is Body Contouring?
Body contouring is a universal, all-encompassing name for any treatment, surgical procedure, or tool that sculpts and enhances the body's shape. Body contouring plastic surgery achieves this by removing fat and skin and repositioning or tightening lax tissues. 
The result is a fitter, younger, and more athletic-looking build that any man would envy.
What Is Liposuction?
Liposuction is the process of removing excess fat from the body to achieve a firmer, more defined physique. Men typically choose to remove excess weight from their abdomen, waist, back, and thighs.
Liposuction is performed under anesthesia. Patients may experience some bruising, swelling, and some discomfort, but this is easily managed with over-the-counter pain medication. Most patients return home the same day as their procedure and usually return to work and regular activities after one week of rest.
What Is Tummy Tuck Surgery?
Men often turn to tummy tuck surgery after dramatic weight loss. When a person sheds significant weight, they can be left with loose skin that hangs off the body—especially in the abdomen.
Tummy tuck surgery removes excess skin and fat while improving the shape of the underlying tissue. Much like liposuction, patients may experience some bruising and swelling that will subside within a few weeks. Patients usually return to all regular athletic activities after one to two months.
What Is Fat Transfer?
Fat transfer is a multi-step procedure that combines two treatments into one. Here, unwanted fat is removed from a "problem area" and injected back into another area to achieve a more youthful appearance. For example, men may remove fat from their abdomen and insert it into their face to fill wrinkles and lines.
The procedure's recovery time will depend on what areas you choose to target.
What Is truSculpt® iD?
For men who are not candidates or do not need surgical fat removal, the truSculpt® iD may be what you are looking for. This non-invasive fat reduction treatment uses targeted radiofrequency energy to heat the unwanted fat cells, destroying them and allowing them to be processed naturally from the body over the following weeks and months.
What Is Gynecomastia Surgery?
While having shape and volume in the breast area is ideal for women, it is a cause for embarrassment and dissatisfaction for men. Unfortunately, some men develop feminine-like breasts due to an excess of glandular tissue or fat. 
Gynecomastia surgery addresses this excess tissue with liposuction and excision methods, leaving a man's chest flatter and more masculine.
Interested in Learning More?
If any of these procedures piqued your interest, please contact Pincus Plastic Surgery for a consultation by calling 631-352-3556 or filling out this form.