Should You Combine a Breast Lift With Your Augmentation?
3 Minute Read: 
The main features of a woman's breasts include their size, shape, and position. Sizes range from the double A's to the double F's (or higher), shapes can be round or teardrop, and they can ride higher or lower based on genetics, with nipple orientation usually placed in the middle of the fattiest portion of the breast.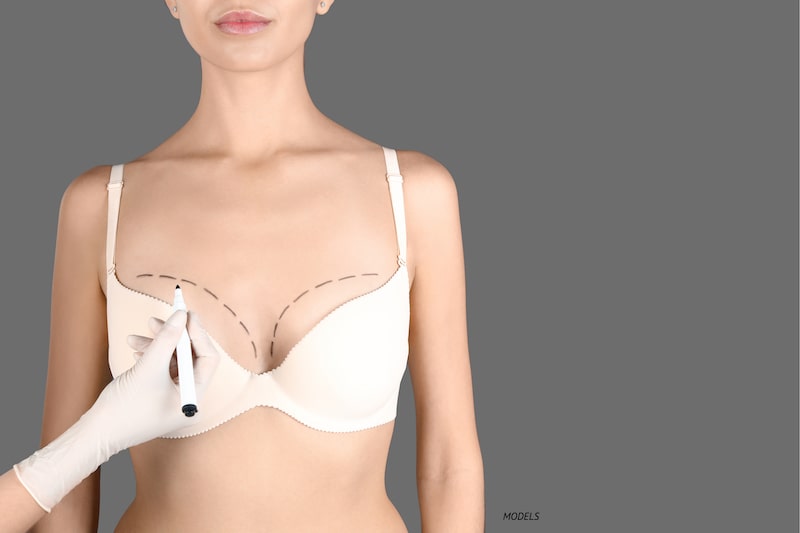 However, pregnancy, nursing, and time cause the breasts to lose volume, change shape, and droop. This is often when women start thinking about reshaping their breasts.
What Is a Breast Lift? 
Sagging breasts result from the loss of elasticity in the breast ligaments and tissues, causing them to droop downward and lose their perkiness. This can be caused by weight loss, pregnancy, breastfeeding, or age.
A breast lift (mastopexy) involves making one of four types of incision in the breast to remove excess skin and tighten the breast tissue.
Breast Lift Incision Types
CRESCENT LIFT

– a small, crescent-shaped incision is made above the nipple to remove excess skin on women who have mild breast sagging.

BENELLI LIFT

– an incision is made around the nipple to remove a doughnut-shaped section of skin. This is an excellent choice for women with moderate breast drooping and mild asymmetry.

LOLLIPOP LIFT

– a lollipop-shaped incision is made around the nipple and down to the breast crease. This is appropriate for women with moderate breast sagging.

ANCHOR LIFT

– a lollipop-shaped incision is extended to include another incision along the breast crease (inframammary fold). This is the best approach to remove excess skin and lift significantly sagging breasts.
At Pincus Plastic Surgery, we most often use the lollipop — or vertical breast lift — when combining an augmentation with lift.
When to Get a Breast Lift With Your Breast Implants
If you are a young woman with small but perky, symmetrical breasts and wish to increase your bust size, there is no reason to add a breast lift to your breast augmentation procedure. 
However, if you have noticed that your breasts have begun to sag or the nipples are starting to point downward, you may want to add a breast lift. A consultation with a reputable plastic surgeon is the best way to be evaluated and have your questions answered.
The Consultation Process
A breast augmentation consult is in-depth, and your plastic surgeon will ask you about your medical history and lifestyle choices, such as nicotine use, as smokers are required to quit smoking for at least two weeks prior to the procedure. 
You will learn all about the surgical process and the results you can expect. Make sure to research the procedure yourself and bring a list of questions you'd like answered, including whether you should add a breast lift, although if you need one, an experienced plastic surgeon will probably mention this during your consultation.
Breast Reduction in
Smithtown, NY
If you are seeking breast augmentation near or in Smithtown, New York, you can count on our board-certified and award-winning surgeon, Dr. David Pincus, to ensure that you are educated about the surgery and that your health is his first priority. The team at Pincus Plastic Surgery is committed to providing you with the best possible care.
Give us a call today at 631-352-3556 to learn more.