Implants, Lifts, and Revisions, Oh My! Which Cosmetic Breast Surgery Is Right for You?
Breast procedures rank among the most common plastic surgery procedures performed on women each year. And when you see the stunning results achieved with breast surgery, there's little wonder why so many women have found confidence in their appearance after their breast procedure(s).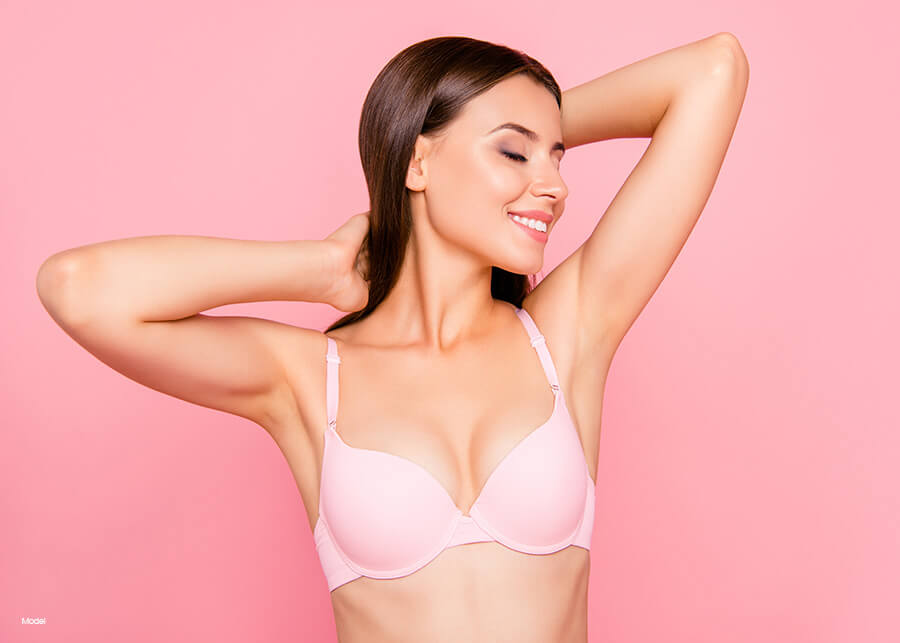 However, women who are just beginning to think about improving the appearance of their breasts may find themselves feeling a bit overwhelmed by the options available.
If you find yourself in this situation, then no fear.
Below we'll look at the various procedures that can help improve the look and feel of your breasts so that you can enjoy a new sense of confidence and comfort.
What Are My Top Breast Procedure Options?
The three most common options for breast surgery are breast augmentation, breast lift, and breast reduction.
While the reasons for undergoing a breast procedure vary significantly, any number of these procedures (including combination procedures) can help you achieve the beautiful breasts you've always wanted (or want to regain)!
Breast Augmentation
Breast augmentation surgery (breast implant surgery) is the most well-known breast surgery and is usually "the default" plastic surgery when discussing cosmetic breast enhancement (even though it is far from the only one).
Breast augmentation/breast enlargement increases the size and improves the shape of the breasts, often using saline or silicone breast implants (Sientra® silicone breast implants or IDEAL IMPLANT® saline breast implants).
For breast augmentation using implants, an implant is inserted beneath the breast tissue or the pectoral muscle (often preferred) to create a more voluminous appearance.
Another option for breast enhancement is fat grafting (fat transfer). Fat transfer breast augmentation injects fat that has been extracted from another area of your body through liposuction surgery. When used to fill the breasts, fat grafting (natural breast augmentation) can provide a subtle increase in size with natural and soft contours.
Breast augmentation is fantastic for women with naturally small breasts, or those who desire larger and more shapely ones. One of the best aspects of breast augmentation is its customization. Not only do you get to choose the implant material (silicone, saline, or fat grafting), but you have the option to choose the size and shape of the breasts so that you can look the way you truly want!
Breast Lift
One of the most common misconceptions in cosmetic surgery is that a breast augmentation procedure will raise the breasts to a higher placement on the chest. Unfortunately, this is not the case. While breast augmentation will improve the breasts' size and shape, it does not address sagging breasts (which often results from age and/or childbearing).
Breast lift surgery (mastopexy) must be performed to raise the breasts to a perkier, more youthful position.
While a breast lift can be performed as a standalone procedure, many women combine it with breast augmentation or reduction to completely transform the breasts.
Breast Reduction
Breast reduction surgery can be one of the most beneficial procedures for women with naturally large breasts. This is because overly large breasts can cause chronic pain in the neck and back and psychological discomfort. Large breasts can also keep some women from participating in their favorite activities and sports.
Breast reduction can help women achieve breasts that are balanced and proportional to the rest of their bodies so that they can take charge of their lives once again.
Similar to breast augmentation, breast reduction surgery does not lift the breasts to a higher, more youthful level. Because of this, most (nearly all) women need to combine a breast lift with their reduction.
What Can You Expect When You Choose Dr. Pincus for Your Breast Surgery?
Dr. Pincus is an expert breast and body plastic surgeon and has spent years finessing his breast enhancement techniques.
He has found that most women require multiple techniques to achieve the desired results. In fact, some women benefit from all three of the procedures mentioned above. Dr. Pincus refers to this as an addition-by-subtraction method. After inserting a breast implant, Dr. Pincus may use reduction techniques to improve symmetry or further enhance breast shape.
No two women are the same, and their breast procedure shouldn't be either. You can feel confident that Dr. Pincus will take the time to create a customizable surgical plan that will incorporate the newest and most advanced techniques.
When Is the Right Time for My Breast Procedure?
While women can have breast procedures performed at any stage of their lives, there are optimal times to undergo these procedures.
It is recommended that you have your breast augmentation surgery before starting a family or after you have children, as pregnancy and breastfeeding can change the aesthetic results of the augmentation (whether with implants or fat grafting).
Similarly, a breast lift should be performed after having children. This is because childbearing can damage your breast lift results. However, a breast reduction can be performed at any time, especially if the size of the breasts is causing unwanted discomfort. That being said, pregnancy will still affect reduced breasts.
At your consultation, Dr. Pincus will evaluate your condition to help you decide which breast procedure (or combination of procedures) is best for you. We are proud to offer the Crisalix Virtual Aesthetics 3D imaging to help you see your results before committing to a procedure.
Want to Learn More About Breast Surgery in Smithtown, NY?
If you have any questions about any of the breast procedures Dr. Pincus offers, please schedule your consultation today by calling 631-352-3556 or by filling out our online contact form.
We look forward to helping you achieve the breasts you desire!