Plastic Surgeon's Guide to Non-Surgical Cosmetic Treatments
Achieving your aesthetic desires without surgery often seems too good to be true, yet with advancements in cosmetic technology, this is becoming more and more possible. Still, with all the options now available, you may be unsure which treatment is best for your needs.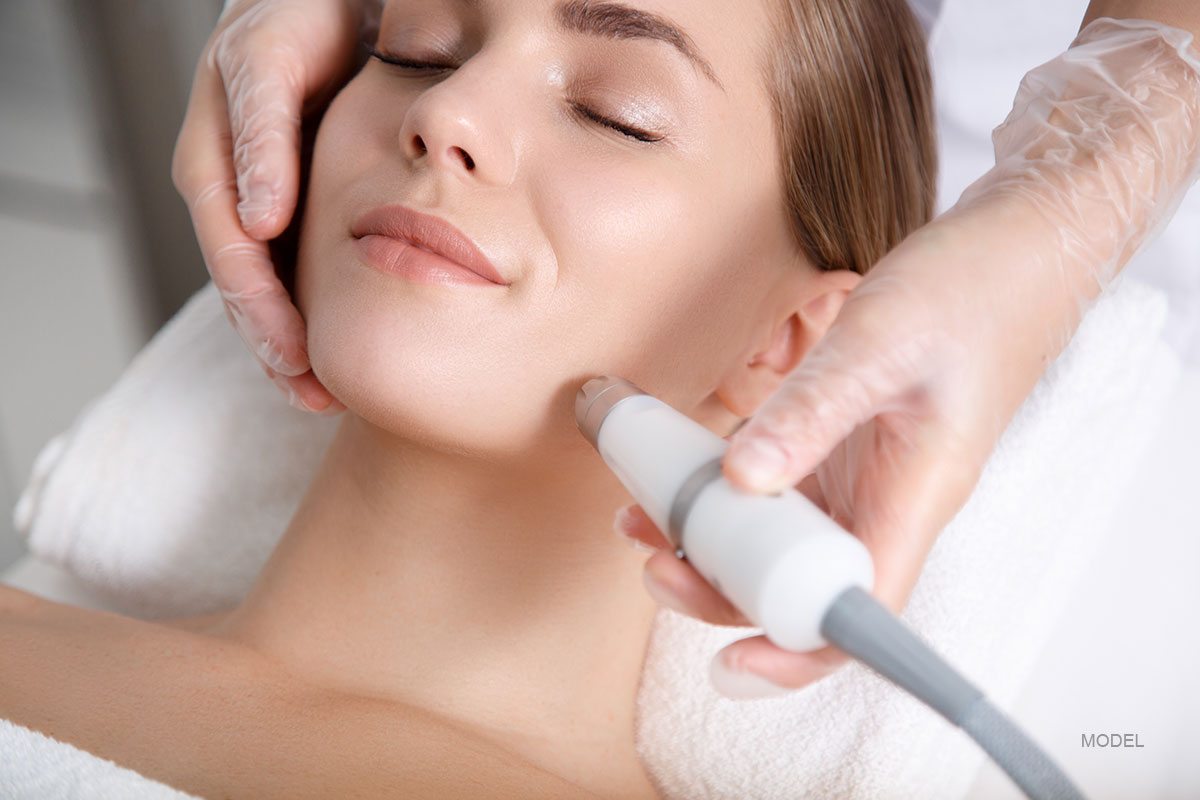 We will discuss popular non-surgical cosmetic procedures for the face, body, and skin, including the benefits of each.
Cosmetic Procedures for the Body
Although health trends tend to change, one thing stays the same: our desire to have a toned, sleek physique.
While plenty of weight-loss options and exercise regimens exist, it can still be difficult to lose weight or tone and sculpt your body the way you want.
truSculpt® iD
For those who wish to trim their bodies without undergoing a surgical procedure like liposuction, truSculpt® iD can help give you the toned and contoured body you've always wanted.
truSculpt® iD is a painless, non-surgical procedure that requires no downtime. Using radiofrequency (RF) technology, truSculpt® iD targets and heats unwanted fat, killing the cells. The body eliminates the dead fat cells naturally over 12 weeks, with four sessions recommended for best results.
Patients experiencing stubborn pockets of fat on the chin, arms, abdomen, flanks, thighs, or buttocks can benefit from this procedure, with most seeing noticeable results after one session.
BodyTite®
For a dramatic yet minimally invasive body contouring procedure, BodyTite® can treat stubborn fat while tightening loose skin.
BodyTite® is a minimally invasive procedure that uses radiofrequency-assisted lipolysis (RFAL) to liquefy and remove targeted fat and tighten the skin. This treatment provides results in just one session, with the best results noticeable after six to 12 months.
The benefits of this procedure include the use of local anesthesia, quick recovery, less pain, swelling, and downtime.
Additionally, truSculpt® and BodyTite® can be combined for dramatic, lasting results.
Cosmetic Procedures for the Face
FaceTite®
Like BodyTite®, FaceTite® tightens and sculpts the face, targeting sagging, drooping skin.
You can use FaceTite® for deep lines and creases on the forehead, cheeks, jowls, and neck. As with BodyTite®, the results of FaceTite® are immediate.
Injectables
Cosmetic injectables are a diverse group of products that can enhance the facial features you like or minimize the ones you don't. We'll break down each type below.
Neuromodulators 
Popular injectables like BOTOX® Cosmetic and Dysport® are neuromodulators that use a specific type of toxin to inhibit muscle contraction under the skin. They are primarily used to minimize the appearance of dynamic wrinkles around the eyes, forehead, and sometimes mouth.
Neuromodulators are a temporary solution to fine lines and wrinkles, but their effectiveness improves after follow-up treatments.
Dermal Fillers
Products like JUVÉDERM® use hyaluronic acid to hydrate, plump, and add volume to the face. Dermal fillers can stimulate collagen production, fill in deep creases and static wrinkles (wrinkles caused by the aging process, sun damage, and environmental factors), and add volume to the cheeks, lips, and chin.
Evoke
For those who want to improve facial skin laxity and fullness in the face, chin, and neck without invasive surgery, Evoke may be an option. If you have moderate to mild issues with stubborn fat or sagging skin of the jowls, neck, and face, Evoke can provide results in a quick, painless, 30 to 45-minute session with no downtime.
Cosmetic Procedures for the Skin
Clear, smooth, even-toned skin can elevate your aesthetic appearance for a more youthful, healthy look.
HydraFacial®
An all-in-one facial treatment that cleanses, extracts, and hydrates your skin, HydraFacial® is a way to take your skin care to the next level.
In a three-step process, your technician will use the HydraFacial® wand to remove dirt and oil deep in your pores before using a fruit peel to exfoliate dead skin. Next, the vacuum-like attachment of the wand is used to extract the remaining debris from the pores. Lastly, specialized serums are applied to hydrate and replenish the skin.
After your HydraFacial®, there is no downtime, although some patients report slight redness that subsides quickly. You can then enjoy smoother, more radiant skin. It can also improve the appearance of fine lines and wrinkles and contribute to a more even skin tone.
Morpheus8™
Combining deep microneedling with radiofrequency (RF) energy, Morpheus8™ treatment resurfaces and rejuvenates the skin for long-lasting and stunning results.
Morpheus8™ needles reach deeper than other microneedles, stimulating collagen and elastin production. Combined with RF waves, Morpheus8™ takes skin rejuvenation and cellular renewal to a whole new level.
This treatment can improve fine lines and wrinkles, mild to moderate sagging on the face and neck, uneven skin tone and texture, skin blemishes and active acne, acne scarring, and sun damage.
As Morpheus8™ works to stimulate collagen and elastin production from the inside out, the full results take a few weeks to appear. Once your skin has had time to produce collagen and elastin, you can enjoy significantly glowing and more youthful-looking skin.
Non-surgical Procedures at Pincus Plastic Surgery
All these cosmetic procedures are available for you to look your best without more invasive surgical treatments. Pincus Plastic Surgery also provides multiple laser treatments, including BBL™ BroadBand Light therapy, HALO® , and MOXI®, to improve sun damage, scarring, and other skin tone and texture concerns.
Want to Learn More About Non-surgical Cosmetic Procedures in Long Island and Smithtown, NY?
Dr. David Pincus is a highly respected and experienced plastic surgeon in Smithtown, New York, providing a wide range of surgical and non-surgical procedures. If you're ready to take the next step toward your facial and body rejuvenation, call Dr. Pincus today.
For more information, call (631) 352-3556 or fill out our online contact form to schedule a consultation today.